Bullying may often lead to a bail bond
I am sitting here on a Sunday typing out my thoughts about some of the new posts I'll be writing about this season for JailGuide. I happened to catch a bit of a trailer on a new movie "Bully" and it woke up some old feelings. So I wanted to write in a couple of stories from my past to remind those of us who felt the sting of a bully and now have that "adult power" we once prayed and dreamed for to start using it.
It saddens me that this is happening to any child as I too was once bullied and it did take a toll on my emotional well being when it was occurring; and still stings today. No matter that I kept to myself and was quiet, my home address played a major factor in getting bullied.
Bullying and bonding go hand in hand, but not till I was older
For the first few months of school, and usually only on the bus, I was harassed, picked on and generally made fun of due to my family's economic problem. We were poor and also lived in a poor community but bused to an upper level income school district due to the vicinity of our home. My home address was faltering right on the line and I wished at that time I could go to the poor kids school, where I believed I belonged. I prayed to be sick and sometimes faked it, but my mother saw right through it. Funny looking back she never bothered to ask if there was an issue at school. As well, I had no father to speak of, he had left a few years earlier.
So there I was, 11 years old, tall and skinny wearing jeans that were obviously meant for a shorter, heavier person and an old coat that I had to bring my arms in to keep from showing everyone how poorly it fit. So every day I got on the bus, and every day I saw that group of older, richer kids sitting in the back and wish I hadn't. Being on the end of the bus-line our stop was usually last, leaving no seats up front where I wanted to sit if only to put up some space between me and the "in crowd".
A child should be free to enjoy their childhood, embrace and cherish it. Not wish for it to be over so soon.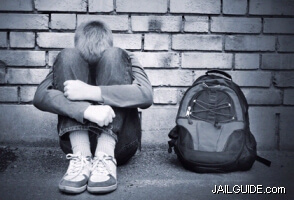 It was a daily ritual of sorts. Paper being thrown at me, the odd pieces of someones lunch (accompanied by "eat poor-boy" or other derogatory poor kid terms), the nudges and slaps if I didn't make it off the bus before they did. The worse day I believe was when one of the bully-crew as a joke brought me an old flannel shirt, obviously rubbed in dog feces, and ordered me to put it on. When I didn't I got clocked – still refusing to do it, and crying at this point they let it go only to pick up on the fact I was crying. I know the bus driver saw this, because I saw him in the large rear-view shaking his head as if to say he was disgusted with me for crying. No, the bus driver didn't stop the bus or write a report if you were thinking he did.
Everything changed when my brother came home
I clearly remember when my brother came home from juvie (juvenile hall). I don't know why he was sent off to juvie, but I can remember when he came home. Sitting on the steps, I saw my mom coming down the street in her beat-up station wagon. The car wasn't even stopped when my brother started to disembark and heard my mom yelling at him… to no avail. He was big. I mean really big. At 17 years old he had arms as thick as my leg and a huge chest. Apparently he spent his time in juvie working out and it showed. The gorilla-hug he gave me was the best ever. I remember to this day how great it felt to have my brother home, to be his sidekick again and to have someone to help me argue with mom about boy things.
The following Monday I begged my mom to let me stay home to hang out with my brother, but this wasn't happening. She was taking him to the high school for registration. I know he knew something was up but he was preparing for a new day in his new life and had other concerns. But I believe he knew something was amiss…
Same old routine on the way in. But this time the name-calling and being pelted with garbage didn't seem to bother me I was just excited to get through with the day to get back home. On the return trip back home someone threw a book at me and I let out a yelp. It brought a lump to my head and naturally, tears to my eyes. I tried to hold it in, but with the taunting and the pain I let it out. Crying and holding my head I got off the bus only to look up and see my brother standing there waiting for me. In seconds he was on the bus yelling for who had made me cry. The bus driver telling him to get off the bus and the threat of filing a police report made my brother back off the bus. Silently we walked home.
I was too embarrassed to say anything to him about the bullying. Here is a big, tough 17 year old and I was a weakling who didn't feel any worth. I also feared retribution from the "bully-crew" if he had done anything and he seemed really mad at me. What I didn't know until later was that my brother wasn't upset with me but extremely angry with having his kid brother picked on.
After dinner we were sitting outside and he asked me what was going on. I broke down crying and really just let it all out. I could see in his eyes how angry he was. After I quieted down he told me what I needed to do. It had nothing to do with being a man, or growing up, but standing my ground and not letting these guys see the fear they caused. He promised that doing this one thing would make all the bullying stop. We talked for a little while longer and then I was called in to go to bed.
This morning you are going to stand up just a little straighter
I picked up my book-bag, which was basically a sack with a drawstring, and it felt heavier that morning. My brother was already up, getting ready for school himself and offered to walk me to the bus stop. It was nice walking with him, but then the conversation from last night came up again and I really wish it hadn't.
He told me that he put a brick in the bottom of my book-bag. Upon checking sure enough there it was. One of the bricks that were meant for a BBQ my dad was supposed to build a few years back, but never did because he left us. Big brother told me that today was going to be the last day they would ever bother me and explained that as soon as any one of them opened their mouths to me, or chucked something at me I was to immediately get up and smash that person with my bag. This I knew I couldn't do. He told me that he knew I couldn't do it, and that I was too weak to do it. But that somehow I needed to muster the balls to just pick up and swing. To let all my emotions sink deep and without any feeling whatsoever, to swing. He looked right at me and told me this was the only thing that was going to save me, and that if I didn't do it today, I would wish everyday that I was picked on and bullied, that I had.
The bus arrived and I hopped on. Luckily I found a seat behind the driver – looking out the window I saw my brother – he had this look on his face that made me feel quite lucky we were related. The dopes in the back didn't say a word, which was unusual because their taunts always started as soon as I got on the bus. We rounded the corner and it began. Weighing the bookbag in my hands I didn't think I could do it. I also thought of all the trouble I would be in for striking back. Their parents were rich and I would probably go to juvie – and if I couldn't handle some rich kids teasing me, how was I going to survive juvie?
This is the day at the age of 11, I go to jail
The first thing to hit me was an apple. It seems the crew had been working the apple for some time to make it almost all pulp; and when it hit me it exploded. Mostly the applesauce hit me, but it also splattered a bit onto a couple other kids sitting near me. Too scared, I did nothing. I kept thinking of being arrested and thrown in jail. I then began thinking that they should be thrown in jail for hurling stuff at me. This was when my train of thought was broken by a second apple. This one hit me in the neck, naturally exploding and with the applesauce running down my back I began to cry.
The taunts began and I could feel myself getting hotter and crying louder. People say that when they do things they "forgot" or "got caught up in the moment" or had the "temporary crazies". This didn't happen to me. I got angry and more focused on what I needed to do. Angry enough that I was still crying when I picked up my brick-laden bookbag and walked to the back of the bus. The bigger kid who said "Whatcha gonna do baby..?" was the first one to get hit in the face with my bag. I was swinging the bag mercilessly into the 4 back seats now that held my enemy. Kids were screaming, some were crying and the only thing to stop my attack was the bus driver. The lazy bastard had finally had enough of me I suppose and had stopped the bus, snatched me up, carried me to the front and chucked me out the door.
So there I am, sun on my face, sitting on the curb smiling and crying. The driver had flagged down a cop who radioed for an ambulance and more cops. Luckily for "the bully group" the brick in my bag was shielded by my notebooks so they didn't really get a taste of brick, only notebook. But I still did some damage. My mother had to pick me up at the police station and when all was said and done I was suspended from school and needed to find another mode of transportation that year. While the teasing stopped in the halls, unfortunately, I had absolutely zero friends at school now as most people left me alone thinking I was crazy. There was even a parents meeting assembled wanting to remove me from the school district as I was, as one parent put it, "a lowlife who was a threat to their children". It seemed no parent wished to acknowledge their child had done anything wrong – in light of the names of the bullies given, the items I was struck with, the names I was called – etc etc. I admit what I did was wrong – but what does a kid do? What does the parent of a bully do? How can a parent stop their own child from acting like a dick? Are they like drug addicts and alcoholics where they first have to admit there is a problem?
Really no moral to this story other than if you poke and prod an animal or person long enough, they will eventually bite back.
Now, about the bond portion of the story. Check here for Part Two in a couple of days where I explain that it was my fault my neighbor went to jail, but I did bail him out.
On Bullying and Bail Bonding Part Two