Jail Guide offers a free community prison forum for people who have questions about prison. Join the
Prison Forum
Advertise with JailGuide.com and get more quality traffic to your law firm, bail bonds or other legal niche site.
Advertise With JailGuide.com
BANNERS | TEXT LINKS | PAGE PRICING | PRISON SENTENCE CALCULATOR | PRISONLINKS.ORG | JAILGUIDE BLOG | PRISONCALC.COM | INMATE LOCATOR | SURVIVE PRISON BOOK | WIKI GLOSSARY

Why advertise with JailGuide.com?
We are a highly established, long running and successful inmate search and jail guide website attracting those needing more information about legal issues, criminal law assistance, legal matters, inmate search, federal or state prison or jail sentences.
The Internet should be a vital part of your marketing mix. The audience of potential customers in this niche not only exists but is very large and growing. These people need legal help and guidance and come to JailGuide.com to get the answers they need... by the thousands! Are you realizing the traffic potential?
We have thousands of links already out on the web and hundreds more coming by way of articles, press releases, blog and forum posts. JailGuide.com also dominates hundreds of keywords on page one of most search engines.
No technical worries, we create and maintain your links for you. If you request an entire page to be promoted for your business, we can do that as well. Utilize our brand, advertising, marketing and technical expertise to promote your business website.
Dependant upon your need we can utilize our sister sites as well. PrisonLinks.org is a top tier rated directory site utilizing a cropped thumbnail for your search-engine friendly, featured "DO-FOLLOW" backlink to your web presence on this fully optimized site. For only $4.97 per year, you can have your website featured on PrisonLinks.org!
SurvivePrisonJail.com is a PR2 rated site and is also growing in readership. SurvivePrisonJail.com features information on how to survive in prison or jail and also includes our 143 page Prison Survival Manual. If you are interested in being represented with a link in the Prison Survival Guide or anywhere on the SurvivePrisonJail.com website please let us know in your message to us.
Jail Guide Advertising Types: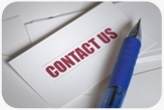 Text Links
Banner Advertisements
Articles/Press Releases
Whole Page Advertising
Wiki Glossary Mention
Mid Page Content
Twitter and Social Submits of Your Site
...contact us for info and pricing
Jail Guide Link Exchange:
We do not offer link exchanges at this site unless your site is predominantly about criminal law, prisons, prisoners, inmates, law firms, victims rights, criminal trial lawyers, bail bondsmen etc. You are more than welcome to request a link within our Jail Blog
If you wish to exchange links with us please contact us and remark about possibly advertising with JailGuide.com.
Use Our Prison Sentence Calculator on Your Website: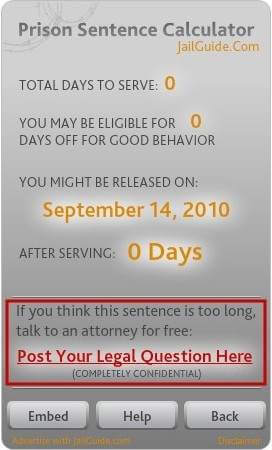 Interested in finding out how you can use our "Prison Sentence Calculator" directly on your website at no cost? We do allow some websites to use our sentence calculator but we must first check your site and verify it is indeed a "law/legal/bailbond" type site. Please visit the Prison Sentence Calculator embed page to find out how.
This is the back of the calculator where all people who use it will go to. Our return rate is quite exceptional from this feed and believe it may help your firm as well.
If you are interested in placing your own link on the calculator please contact us. We will recode the calculator and place your small banner (up to 200x77) or text ad where the red square box is. You can see that the text "Post Your Legal Question Here", immediately routes the user to one of our legal assistance pages. We can also recode the entire calculator and place your links within the system replacing ours.
Find out what this calculator can do for your law firm or bonding company. Contact Jail Guide today.
Jail Guide Thank You Links!
If you like our site and wish to tell the world about us please use these easy to use tools. Simply copy and paste into your website or blog:




Advertise on Our Inmate Locator
Your legal type website can be listed on any of these pages as well. So if you are a new law firm looking for great links to your site - then this would be ideal as the people who are searching in their area will get your link. We have also built a series of "State Prison Search" pages that point only to that state. First come first served on these brand new pages!
Check the inmate search engine for yourself!
Jail Guide Family of Other Sites
---
Premier Lawyer Directory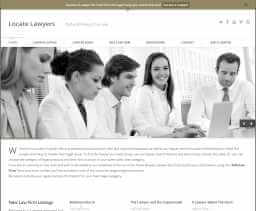 LocateLawyer.net is a premier lawyer and law firm directory which boasts 64,000 listings for lawyers all over the United States. Inclusion to the directory is FREE! Simply go to LocateLawyer.net and submit your practice' information.
Premier Web Link Directory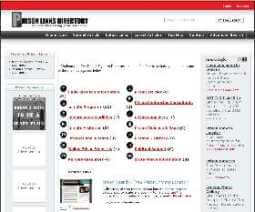 PrisonLinks.org is a premier web links directory site focusing on only legal links. Get your "Do-Follow" featured backlink for only $4.97 per year! This site is fully indexed and currently has a Google PR of 2.
Living on The Inside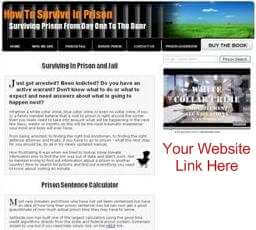 SurvivePrisonJail.com focuses on information pertaining to the book, "How To Survive in Prison or Jail". You can request to be placed within any page within the book! The "How To Survive in Prison" book is an instant download in a secure PDF format and cannot be altered by the reader. This site is fully indexed.
Prison Sentence Calculator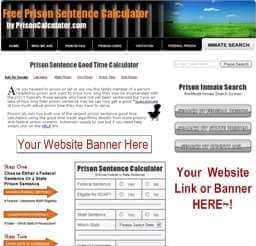 PrisonCalc.com is meant for one thing only: To calculate prison sentences and good time. Picture your website displayed on any position on these pages getting great linkjuice from a dedicated PR2 website. This site (and the other) are gaining more popularity, and with the new design of the "Prison Sentence Calculator", as well as the articles, videos and press releases we continue to apply for this (and our other) sites every week... our traffic is growing.