Jail Guide offers a free community prison forum for people who have questions about prison. Join the
Prison Forum
How to embed the Jail Guide Prison Sentence Good Time Calculator on your legal website to help defendants calculate the amount of prison time they reduce.
How To Put the Jail Guide Prison Sentence Calculator on Your Website
The Jail Guide Federal Prison and State Prison Sentence Calculator, or, Earned Good Time Calculator has been made to easily embed on your site. Simply copy and paste the code listed below into your web page and then point some traffic to it.
The Jail Guide Prison Sentence Calculator allows a person to input their prison sentence information to receive an automatic calculation of the "possible" good time credit they could receive while in prison for good time earned.
Having good time credit will take days, weeks, months or years off of your prison sentence. If you would like to also find out how to calculate a federal prison sentence based on crime committed, visit the Jail Guide Federal Sentencing Guidelines information page. More information and prison sentence calculator help
The Prison Sentence Good Time Calculator
Copy and Paste This Code onto Your Website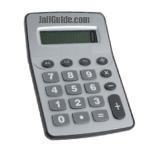 Simply click on the box below and copy. Open your web HTML page or Wordpress page and paste the information. You will need a white background as the calculator is not transparent.
To use our calculator on your page you hereby agree and acknowledge not to attempt to crack or disassemble nor otherwise meddle in our code or use or place the Jail Guide Prison Sentence Calculator on any site with malicious or otherwise evil intent.
JailGuide Prison Links
Inmate Locator
We will not list any Youth Offender Facility or Juvenile Facilities on JailGuide.com or it's Inmate Locator Tool.
---