Jail Guide offers a free community prison forum for people who have questions about prison. Join the
Prison Forum
The Jail Guide Prison Disclaimer Policy with information pertaining to the use of JailGuide.com website.


Disclaimer Policy for Jail Guide

This website is not affiliated with the United States Government nor is it affiliated with any Federal, Provincial or State government agency or any law enforcement agency, anywhere. We are NOT a "consumer reporting agency" as defined under the Fair Credit Reporting Act ("FCRA"), 15 U.S.C. § 1681 et seq., as amended, and the information in our databases has not been collected in whole or in part for the purpose of furnishing "consumer reports," as defined in the FCRA. Rather, the information in our databases has been obtained by us as a result of such information being publicly available to us for our possession, use and dissemination, and You may not use the Website or Data to: (a) establish a consumer's eligibility for personal credit or insurance; (b) assess risks associated with existing consumer credit obligations; or (c) evaluate an individual for employment, promotion, reassignment or retention (including employment of household workers such a nannies, housekeepers, or contractors) or in conjunction with assessing the merits of entering into any other personal business transaction with another individual ("Unauthorized Purposes").
JailGuide.com, as well as it's officers, agents, and employees are not liable for any erroneous inmate information on this website or any improper or incorrect use of the information described and contained herein. In no event will JailGuide.com, as well as its officers, agents, and employees be liable for any direct, indirect, incidental, special, exemplary, or consequential damages however caused and on any theory of liability, whether in contract, strict liability, or tort (including negligence or otherwise), arising in any way out of the use of this website, even if advised in advance of the possibility of such damage. This disclaimer of liability applies to any damages or injury, including but not limited to those caused by any failure of performance, error, omission, interruption, deletion, defect, delay in operation or transmission, computer virus, communication line failure, theft, or destruction or unauthorized access to or alteration of inmate information included herein; whether based upon breach of contract, tortuous behavior, negligence, or under any other cause of action.
Inmate Search Disclaimer:
Information on this website is provided for informational purposes only. It's subject to change and may be updated periodically. While every effort is made to ensure that the posted information is accurate, it may contain factual or other errors. Inmate information changes quickly, and the reported information may not reflect the current information. An arrest does not mean that the inmate has been convicted of a crime. The information on this website should not be relied upon for any type of legal action. Unauthorized or illegal use of the information is strictly prohibited. By using this information, you acknowledge that you understand and have accepted these terms of use.
Indemnification
User agrees to defend, indemnify, and hold harmless JailGuide.com, as well as it's officers, agents, and employees from and against all claims, damages, and expenses, including attorneys fees, arising out of the use of this site by user or user's account whether by negligence or otherwise.
Disclaimer of Warranties and Accuracy of Data:
Although the data herein has been produced and processed from sources believed to be reliable, no warranty expressed or implied is made regarding the accuracy, adequacy, completeness, legality, reliability, or usefulness of any information. This disclaimer applies to both isolated and aggregate uses of the data herein. JailGuide.com provides this information on an "as is" basis. All warranties of any kind, express or implied, including but not limited to the implied warranties of merchantability, fitness for a particular purpose, freedom from contamination by computer viruses, and non-infringement of proprietary rights, ARE DISCLAIMED. If you have obtained information from this website from a source other than this entity, be aware that electronic data can be altered subsequent to its original distribution. Data can also quickly become out-of-date. It is recommended that careful attention be paid to the contents of any metadata associated with a file, and that the originator of the data or information be contacted with any questions regarding appropriate use.
If you find any errors or omissions, we encourage you to report them to our Webmaster. Disclaimer of Duty to continue provision of the data due to the dynamic nature of the Internet, resources that are free and publicly available one day may require a fee or restrict access the next, and the location of items may change as menus, homepages, and files are reorganized. User expressly agrees that the use of this website is at the user's sole risk. Neither JailGuide.com nor it's officers, agents and employees; nor third-party content providers or licensors, warrant that the service will be uninterrupted or error-free.
Indemnification of Information Presented:
The Policies and Procedures provided at this Web site are unofficial versions and are intended for informational purposes only. They are provided by the website as a free service to the public. They are subject to change at any time and do not include the secured Policies and Procedures of the website. JailGuide.com does not guarantee the accuracy or completeness of the postings. Please see the actual documentation on the websites listed.
By accepting these terms, you also acknowledge and agree not to use the information provided as criminal history or for any formal documentation to be used in criminal or civil court. You agree that the information contained in the public record links provided will not be used as the basis for administrative action, for employment, housing, groups, unions, assisted living, financial assistance, educational enrollment or any other entity that may discriminate due to the content held in this section.
Information regarding people currently incarcerated in detention facilities, work camps, boot camps, halfway houses, jails, prisons etc. is made available as a public service. It is extremely important to note that a person's current incarceration does not necessarily indicate they have been convicted of a crime, as some facilities merely hold those who are awaiting trial. All persons are considered innocent until proven guilty.
Disclaimer of Warranties and Accuracy of Data Of the Prison Sentence Calculator: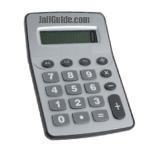 The Jail Guide Prison Sentence Calculator is for entertainment purposes only. Information regarding the time of total incarceration is, and cannot be, ever accurately calculated. There are other factors involved with a proper calculation of good time credit. Some instances may be loss of good time due to circumstances beyond an inmates control. As well, some offenses do not warrant the total amount of good time as others. For example: Some states reduce the good time credit for murder convictions yet give more credit to those who have simply stolen property, drug offenses or other non violent crime. Other factors include a state or jurisdiction altering the good time credit percentage or rights to that percentage.
Disclaimer of Warranties and Accuracy of Bail Bond Calculator:
The bail bond calculator is for entertainment purposes only... and here is why: Bail bond rates differ from state to state and county to county. We are using 20% for a felony bond and 10% for a misdemeanor bond. We urge you to contact a bail bondsmen in your area for the proper bond amount.
Links:
JailGuide.com may contain links to third party websites that are not owned or controlled by JailGuide.com. JailGuide.com is not affiliated with those websites, has no control over, and assumes no responsibility for, the content, privacy policies, or practices of any third party websites. In addition, JailGuide.com will not and cannot censor or edit the content of any third-party site. By using the Website, you expressly release JailGuide.com from any and all liability arising from your use of any third-party website. Accordingly, we encourage you to be aware when you have left the Website and to read the terms and conditions and privacy policy of each other website that you visit.
Google Adsense and the DoubleClick DART Cookie:
Google, as a third party advertisement vendor, uses cookies to serve ads on this site. The use of DART cookies by Google enables them to serve adverts to visitors that are based on their visits to this website as well as other sites on the Internet. To opt out of the DART cookies you may visit the Google ad and content network privacy policy at the following url https://www.google.com/privacy_ads.html Tracking of users through the DART cookie mechanisms are subject to Google's own privacy policies.
Last updated: January 11, 2017
JailGuide Prison Links
Inmate Locator
We will not list any Youth Offender Facility or Juvenile Facilities on JailGuide.com or it's Inmate Locator Tool.